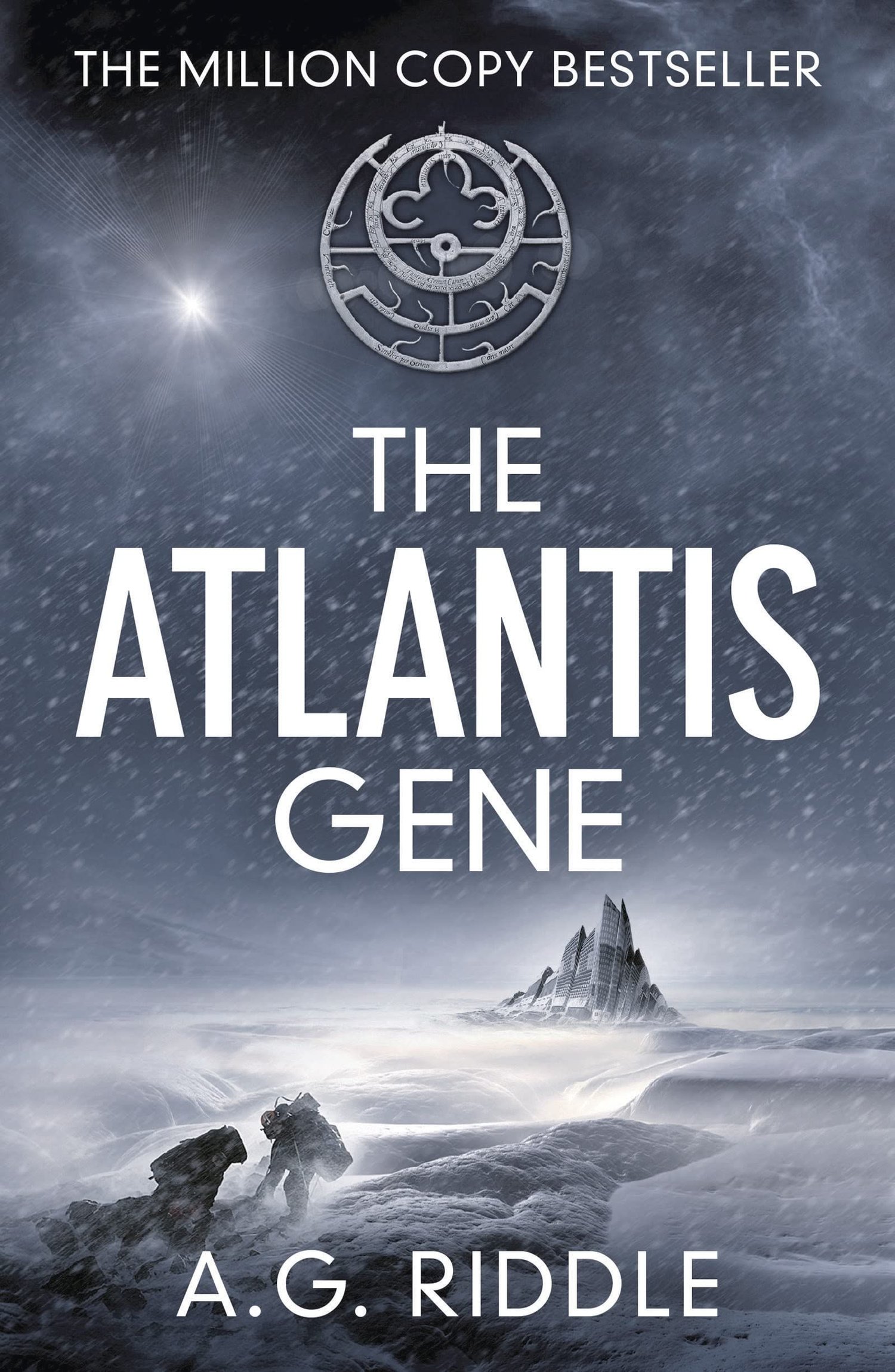 The Atlantis Gene: A Thriller
by 
A.G. Riddle
(Author)
---
THE GREATEST MYSTERY OF ALL TIME...
THE HISTORY OF HUMAN ORIGINS...
WILL BE REVEALED.
* * *
Read the novel that started it all: The Atlantis Gene is the first book in A.G. Riddle's bestselling Origin Mystery trilogy, which has sold OVER THREE MILLION COPIES WORLDWIDE (in twenty languages), received over 25,000+ reviews on Amazon and 100,000+ ratings on GoodReads, and is in development to be a major motion picture!
* * *
70,000 years ago, the human race almost went extinct.
We survived, but no one knows how.
Until now.
The countdown to the next stage of human evolution is about to begin, and humanity might not survive this time.
* * *
Off the coast of Antarctica, a research vessel discovers a mysterious structure buried deep within an iceberg. It has been there for thousands of years, and something is guarding it. Could it be the fabled city of Atlantis? Or is it something more dangerous?
At the same moment, in Jakarta, Indonesia, a brilliant geneticist named Kate Warner has just discovered a breakthrough treatment for autism. Or so she thinks. What she has found is far more deadly--for her and for the entire human race. Her work could unleash the next stage of human evolution. It might also hold the key to unlocking the mysterious structure off the coast of Antarctica.
On the other side of Jakarta, Agent David Vale is racing to uncover a conspiracy with far-reaching implications. But he's out of time. His informant inside the conspiracy is dead. His own organization has been infiltrated--and his enemy has turned the hunt on him. Now he's on the run. But when he receives a coded message related to an imminent attack, he risks everything to save the one person that can help him stop it: Dr. Kate Warner.
Together, Kate and David race to unravel a global conspiracy and learn the truth about the Atlantis Gene... and human origins. Their journey takes them to the far corners of the globe and into the secrets of their pasts. Their enemy is close on their heels and will stop at nothing to obtain Kate's research and force the next stage of human evolution--even if it means killing 99.9% of the world's population. David and Kate can stop them... if they can trust each other. And stay alive.
SELECTED PRAISE FOR A.G. RIDDLE
"...reads like a superior collaboration between Dan Brown and Michael Crichton."
-- The Guardian on Pandemic
"I finished the book fast because I just couldn't wait..."
-- WIRED GeekDad on Departure
"Riddle... keep(s) the focus on his characters... rather than the technological marvels"
-- Publisher's Weekly on Departure
"Well-constructed and tightly-wound as a fine Swiss watch--DEPARTURE has non-stop action, an engaging plot and, of course, wheels within wheels."
-- Diana Gabaldon, #1 New York Times bestselling author of Outlander
---
Categories : Technothrillers, Science Fiction
ASIN ‏ : ‎ B00C2WDD5I
Publisher ‏ : ‎ Legion Books; 1st edition (March 27, 2013)
Publication date ‏ : ‎ March 27, 2013
Language ‏ : ‎ English
File‏ : ‎ EPUB, 746 KB
Text-to-Speech ‏ : ‎ Enabled
Screen Reader ‏ : ‎ Supported
Print length ‏ : ‎ 642 pages